Oaklahoma Poker - Poker Laws in Oaklahoma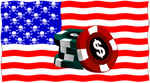 Is Poker Legal in Oklahoma?
Oklahoma falls in the middle of the spectrum when it comes to state gambling laws. In some areas, they are totally flexible, while in others they simply will not tolerate any sort of gambling. To learn more about Oklahoma's gambling laws and what they've got to do with your poker games, keep on reading.
Learn which USA poker sites will accept players from the state of Oaklahoma

Does Oklahoma Allow Home Poker Games?
In short, no; private home poker games are illegal in Oklahoma. When we are looking at home games in this state, there are two kinds of crimes being committed. First, the owner of the home is guilty of conducting gambling. According to section 21-941 of the Oklahoma Penal Code, "Every person who opens… or who conducts… or carries on either poker… or who either as owner or employee, whether for hire or not, deals for those engaged in any such game, shall be guilty of a felony."
That's right, hosting a home poker game is a felony in Oklahoma! The law states that the convicted operators are subject to a fine of $500-$2000 and one to ten years in prison! In case you were thinking about hosting a poker game, these severe punishments should serve as a reminder that the state is very serious about not gambling.
As for the actual players at a home game, the punishment is not as harsh. As dictated in Section 21-942, a fine of $25-$100 and imprisonment for 1-30 days is the prescribed punishment. While not as bad, most weekend poker players still don't like the sounds of spending a night in jail.
Do The Casinos in Oklahoma Offer Poker?
So far, the look we have had at Oklahoma's Penal Code has painted a grim picture, but be assured that it's not all bad. In fact, the casino industry in Oklahoma is burgeoning, and poker hasn't been left behind. There are some fairly modern casinos in this state, and they know how to take care of their players with all of the slots, table games, and poker you can handle.
When it comes to poker, we're not just talking about some 3-card casino version. These casinos have legitimate poker rooms, with rows of tables dedicated to games like Texas Hold 'em, Omaha Hi/Lo, Stud, and more. Since you'll be playing with a professional dealer and getting the VIP treatment, this really might not be a bad alternative to a home game.
Is Online Poker Legal In Oklahoma?
Oklahoma hasn't gone after online gambling the way a few states have so it's hard to say whether or not online poker is legal. Some people will tell you that the laws prohibiting gambling in the state forbid online poker. Others will say that the laws are not at all related to online gambling. The truth is that we can't say for sure.
Until someone is arrested and charged with gambling (for playing poker online) the courts cannot make a ruling on the issue and we're left in the dark. So proceed with caution, but know that many players feel comfortable knowing that the state doesn't have the tools, or the rights to monitor their Internet usage.