Oregon Poker - Poker Laws in Oregon - Home Poker Games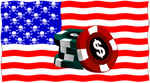 Is Poker Legal In Oregon?
Oregon is a great state for poker players. With a combination of legalized casino gambling, gambling laws with exemptions for privately held home poker games, and even well worded Internet gambling legislation that protects the players. To learn how these laws work and what you must do to play legally, keep reading.
Learn which USA poker sites will accept players from the state of Oregon

Are Home Poker Games Legal in Oregon?
Oregon's gambling laws are written in a way that allows for legal home poker games. These games fall under the category of social gambling and are easy to set up properly. Looking at the definition for social gambling, the Oregon Penal Code tells us that a social game is "A game, other than a lottery, between players in a private home where no house player, house bank or house odds exist and there is no house income from the operation of the social game".
According to Section 167.121 "Counties and cities may, by ordinance, authorize the playing or conducting of a social game in a private business, private club or in a place of public accommodation. Such ordinances may provide for regulation or licensing of the social games authorized" This means that some local governments may outlaw home poker games, while others do not. To be sure, consult with your local law enforcement.
Does Oregon Allow Poker In Casinos?
Oregon is home to a few casinos, all of which are owned and operated by the local Indian tribes. These casinos are all a bit different, but most of them do have poker rooms with all of the most common poker games. In addition to poker, they offer slot machines, video poker games, keno, and the casino table games (craps, roulette, and blackjack).
To top it all off, these are full-scale resorts. They have lots of great restaurants and luxurious hotel options. As such, they are major tourist attractions and contribute to the local economy. With such a deeply rooted history, it is unlikely that we will see Oregon get rid of its casinos any time in the near future.
Is Online Poker Legal in Oregon?
Oregon actually does discuss online gambling in its penal code but it's clear that the state isn't targeting poker players. In fact, if you don't actually own or operate an online poker room/casino, you're probably in the clear.
According to Section 167.109 of the penal code, an online poker room operator may not accept payments via credit cards, electronic transfers, checks, or any other method via financial institutions. The penalty for doing any of these things is a Class C Felony. This pretty much eliminates the possibility of operating an online poker room, but players aren't mentioned.
Also, the Federal government hasn't gone after online poker players yet either. Right now, law enforcement agencies at the state and federal level are all focused on cutting off payments from banks to online gambling sites. This might make it more difficult to make your deposits/withdraws but it doesn't make you a criminal by any means.