Colorado Poker - Legal Poker Sites in Colorado - Home Poker Games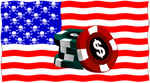 Is Poker Legal in the State of Colorado?
Colorado has a slim, sleek gambling code that gets straight to the point. In the end of the day, they really just don't want gambling to fund organized crime, but as a consequence the citizens of the state have to deal with some restrictions. Most home poker games are legal though, and there are plenty of casinos within the state to keep you in the action. Overall, Colorado seems like one of the better states for poker players.
For more US poker information, please visit our USA poker sites page. Includes a list on which poker sites accept players from Colorado.

Colorado isn't  too harsh on those who have broken the law by gambling. According to section 18-10-103 of the Colorado Penal Code, "A person who engages in gambling commits a class 1 petty offense." A petty offense isn't even a misdemeanor and could be considered a slap on the wrist.
Are Home Poker Games Legal in Colorado?
Home games appear to be legal in Colorado as long as they meet a few restrictions. In the introduction to the Penal Code's gambling section, there is a legislative declaration concerning the construction and intent of the law.
It discusses the connection between organized crime and gambling but stresses that they want "to avoid restricting participation by individuals in sport and social pastimes which are not for profit, do not affect the public, and do not breach the peace."
From that statement, it seems that private home poker games are legal as long as you keep them in private, and do not operate them for profit. The operator of the game is free to play and legitimately win, but they cannot charge players for entry or rake the pot. Most traditional social poker games fall within these boundaries.
Do The Casinos in Colorado Offer Poker?
Since the gold mining days that spurred growth in Colorado, gambling has been big business. In the nineties, the state tried to slow the growth of casino gambling in the region by implementing legal wagering restrictions, but the casinos have continued to thrive.
Withinn all of the biggest casinos, and some of the smaller establishments, poker rooms take center stage. With Texas Hold 'em as the uncontested king of Colorado poker, it has never been easier for the residents of Colorado to play the games they love. These casinos will likely be around for the foreseeable future because they attract many players from the neighboring states and help fuel Colorado's tourism industry.
Is Playing Poker Online Illegal in Colorado?
Online poker is an unclear issue in the state of Colorado. According to section 18-10-106, "Whoever knowingly transmits or receives gambling information by telephone, telegraph, radio, semaphore, or other means or knowingly installs or maintains equipment for the transmission or receipt of gambling information commits a class 3 misdemeanor."
So far nobody has been prosecuted, so the courts haven't had a chance to test this legislation. It seems likely though, that betting online would be considered "transmitting gambling information". As a side note, if you should decide to open your own online poker room, be aware that the state and federal law enforcement agencies will be paying you a visit!